40 percent of USA and Canadian companies are outsourcing Web and Mobile App Development Projects to India | Here's why
JUNE 06, 2021
India has emerged as the leading IT outsourcing destination for companies planning to shift its business processes from United States & Canada to India. There are numerous advantages of
outsourcing software development to India
, cost benefits a vital point and vast IT skilled talent pool are just two! However, before outsourcing to India, you need to be completely informed and this write-up covers everything you might want to know. So, let's get started.

Recently, the National Association of Software & Service Companies (NASSCOM) reported that almost half of all Fortune 500 companies believe in outsourcing web & mobile app development projects to India and that 80% of firms are of Europe and the US. Although other countries like China, Mexico, Philippines are in a row to give tough competition to India, the country remains to be the most preferred outsourcing destination. Let's start with a simple question - "
What is outsourcing
?"

In simple terms, outsourcing is a simple process where your business operations performed outside your in-house infrastructure. A company is said to be outsourcing, when you

hire developers

, dedicated teams, distributed teams, and get your complete project completed at an external location. My experience says you choose to outsource a specific task, a full project, or

hire dedicated developers

/ teams to work on it. Now, most of the companies believe a strategic partnership between the two firms for achieving the best outcome from an outsourcing venture has become the way out.

IT Spending Growth Forecast 2017-2019 ($ bn)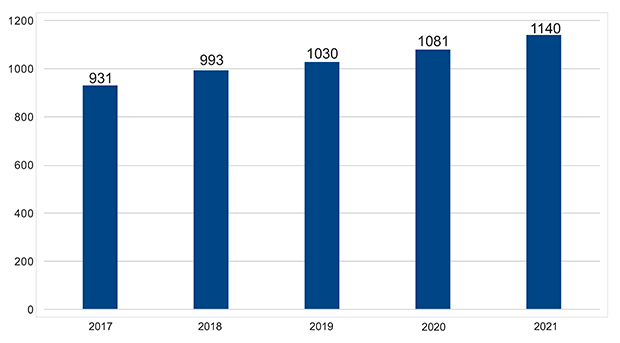 The above statistics clearly show how aggressively the
IT industry
spending is growing, this is due to current demand outgrowing the supply of qualified specialists for certain technologies. In 2019, the spending on IT services reached US$1.03 trillion worldwide. To date 2020* the spending is US$1.081 trillion*, and the anticipated to grow by another 110 billion between 2020 and 2021.
Over the years, outsourcing has become an indispensable business strategy of global corporations, start-ups, mid-sized companies, enterprises, and all others. Now let me introduce you to the terms outsourcing and offshoring. Knowing the meaning of outsourcing is not just enough you should have a clear understanding of all the three, so to adopt without confusion.
While we have already discussed what outsourcing means in the initial paras. Here, let's know what offshoring and nearshoring and how they are different from outsourcing.
Offshore
The term outsourcing is defined as a business practice in which a business contracts out certain business processes or services to a third-party provider. Offshoring involves business processes, tasks or services by a company to its center in a different country.
For more clarity, let's have a look at this example,
hiring a software development
outsourcing services by a company for creating its software products is outsourcing. Whereas the establishment of a new
software development center
by this company in a different country to provide software products is an example of offshoring. Another simple example is
Apple
opening a customer service center in India to serve its
clients in the United States
.
Main Advantages of Outsourcing in India
It is well known that the cost of labor in Western countries like the United States is high. So, when it comes to comparing price and also the quality of work, India has a vast pool of talent that is available at a comparatively inexpensive rate. By shifting their business service to a developing country like India, companies can leverage cost differences and get their services completed at a much lower price.
Hiring a team at lower cost
is a major advantage but let me tell you a few more advantages that are also considered.
Reduced costs:
Outsourcing to a third-party provider usually provides a large cost saving to businesses. For example, for a US company, getting a website developed and maintained in-house is much costlier than just outsourcing web development to an IT outsourcing service provider in India.
Focus on core competencies:
Outsourcing lets the company dedicate concentrate on its business core operations.
Expertise:
Outsourcing a business task like in a web development project, to a software development
outsourcing company
expert in development results in a high-quality, on-time, bug-free product.

Scalability:

According to the business requirements a company that hired a third party outsourcing company can increase or decrease in the size of the outsourced team. If a company hired a size of five remote developers for its project, but for some reason, it requires more developers, then the outsourcing service provider can easily scale up the team.

Skilled workforce:

Another major benefit that
US companies draw from offshoring
is getting their work done by highly skilled and certified professionals. India is well acknowledged for its expert IT professionals, due to this reason many software companies have offshored their software development centers to India.

Infrastructure:

With IT hubs in Bangalore, Gurgaon, and Hyderabad, India has proved itself to be a part of all the developed nations when it comes to IT infrastructure. Even the increased establishment of start-ups and SMEs are very well utilizing advanced technology tools to provide excellent web solutions.

Supportive Govt. Policies:

It's hard to find countries that have favorable and supportive government policies, whereas India is popular in terms of IT industry policies. The
Information Technology Act
and all other IT policies in India are supporting the industry's growth.

Apart from the major these, there are many other perks of outsourcing web development tO India like consistent in quality, round the clock support, faster project delivery, and much more.

Want to know which is the best outsourcing country?

By now, you must have got the idea that outsourcing is a great approach that you must adopt to scale, cut costs, and include the latest technology stack. The next question you need to address is which could be the best country to outsource?

At Global Services Location Index™(GSLI) India is ranked one in terms of magnetism for outsourcing. There are 500+ companies in India catering to the different requirements of the western countries.

Countries Outsourcing to India 2019 (%)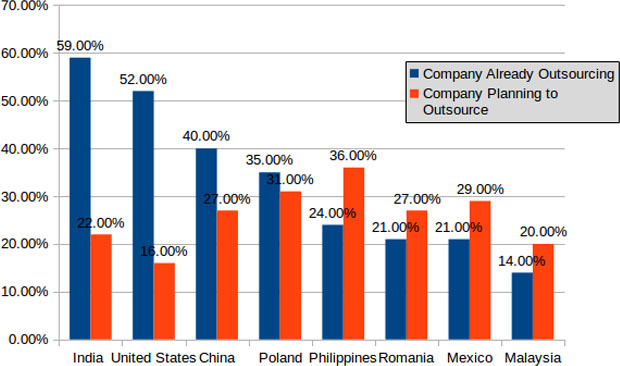 Also, Deloitte's study on global businesses, revealed that over 59% of business are already outsourcing to India. Only 22% of those that are not currently outsourcing to India, but are planning to do the same in the near future.
India IT professionals statistics
India over 3.1 million graduates and over 30,000 post-graduates are churned out from India and 500,000 engineering graduates pass out from Indian Engineering colleges each year.
Around 4 million IT professionals are directly employed in the IT industry and 10 million indirectly.
Over 200,000 IT graduates are annually added to the IT workforce in India, which makes them the youngest employable population globally.
In the next 5 years, it is expected that 40% of the Indian IT workforce would enhance their skills in emerging technology to meet advanced skill requirements.
IT service outsourced to India
Web Development
Software Product Development
Content Management System (CMS)
ecommerce Solutions
e-Learning Systems
CRM Systems
Enterprise Information Portals
Intranet Applications
Customer ERP Systems
Legacy System Maintenance
Application Enhancement
Now that you are well aware of which services are best suited for outsourcing, you must find the
best company for IT sourcing in India
. While plenty of IT outsourcing companies in India there are several ways to find an effective one. Let me help you in preparing a questionnaire that fits your requirements.
What are the major services you offer?
Please provide 7-8 benefits you offer your customers?
Do you make custom web design or use the theme?
Can you provide the Portfolio?
Do you provide case studies to showcase the results of your web design?
What is the policy for building websites in comparison with the competitors?
How do I get the timely work progress of the project?
What are the types of technologies you are specialized in?
Do you give round the clock support and also handling the updates of the applications?
Summing Up
Whether you want to minimize your cost, include advanced technologies towards growing your business, outsourcing to India could be the right step. There are many advantages you can avail, cost benefits you can leverage, timely updates on work, maintenance and round clock support, and technology stack you can bring to the table when you choose to outsource development to India.